Diesel Compressors SMAC 40D
40CFM DIESEL AIR COMPRESSORS,
THAT YOU CAN TRANSPORT ON THE BACK OF YOUR UTE …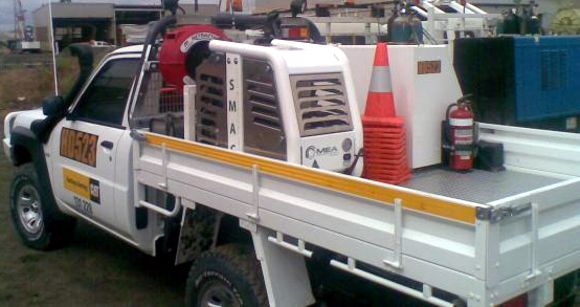 THE SMAC 40D-15HP DIESEL COMPRESSOR IS NOW AVAILABLE THROUGH HEATH PIPELINE SERVICES
Manufactured by MEA, the SMAC 40D is a diesel, rotary screw, air compressor, which provides a reliable source of compressed air to drive various pneumatic tools, including:
Impact wrenches
Arc air welding
Nut runners
Grinders
Valve pumps
Industrial tyre inflation capabilities
Jack hammers
Six models are available allowing you to use your SMAC 40D as a compressor, generator, welder, battery charger or jump starter.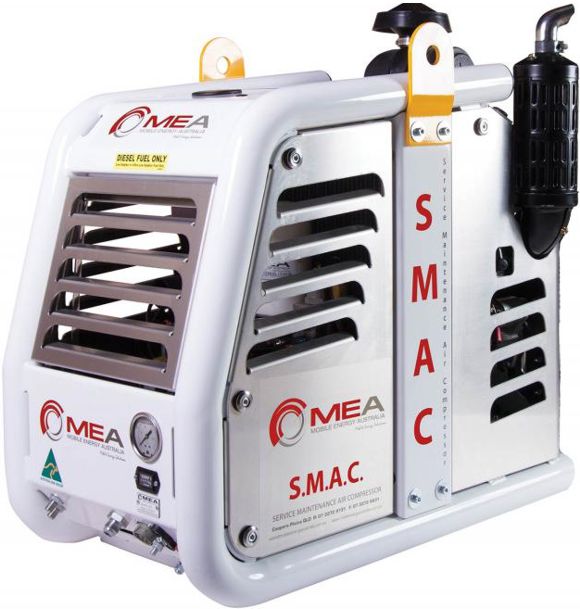 SMAC 40D IMPORTANT FEATURES …
Powered by a 2-cylinder KUBOTA Z602 engine and Rotor Comp NK31 Air End, the SMAC 40D compressor will bring power and reliability to your service capability. With the flexibility to drive a wide range of pneumatic tools the SMAC suits all applications.
Manufactured using steel and protected with a powder coated finish the SMAC is extremely sturdy. Coupled with the reliability of the Kubota engine, German designed and manufactured air end and Sincro quality generator and welder options the SMAC is one of the most durable products in the market.
With diesel reliability, low emissions and fuel efficiency the SMAC is suitable for most site regulations. Not only this, the 1.6 LHR @ 100 % load, 100% duty cycle (Air on Demand) and an eco cooling system makes the SMAC highly efficient.
A variety of models are available including:
SMAC 40D (40CFM-145 PSI) Compressor
SMAC 40D-G-50Hz (40 CFM-145 PSI) Compressor, Generator
SMAC 40D-WG-50Hz (40 CFM-150 PSI) Compressor, Welder, Generator,
SMAC 40D (40CFM-145 PSI) Fuel & Battery Module
SMAC 40D-G-50Hz (40CFM-145 PSI) Fuel & Battery Module
SMAC 40D-WG-50Hz (40CFM-145 PSI) Fuel & Battery Module
SMAC 40D-5 in 1-50Hz (40CFM-145 PSI) Compressor, Generator, Welder, Jump Starter 330AMP, Battery
Charger (12v,24v,36v,48v)
SMAC 40D-5 in 1-60Hz (40CFM-145 PSI) Compressor, Generator, Welder, Jump Starter 330AMP, Battery Charger (12v,24v,36v,48v)
The SMAC's compact and lightweight design will minimise your maintenance costs and is ideal for those who want the power without the payload