HDPE Pipe Cleaning
LIQUID WASTE SERVICES – HDPE PIPE CLEANING WITH J.J. RICHARDS & SONS PTY LTD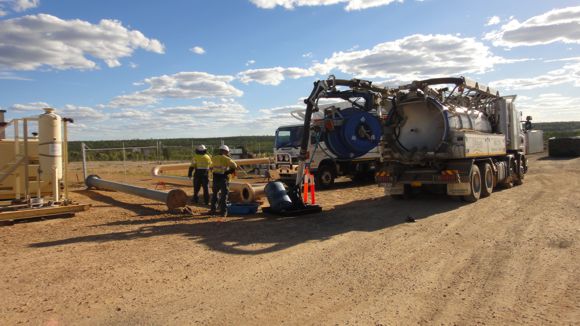 April 2016
Heath Pipeline Services Pty Ltd were contracted by our client to undertake internal cleaning of a buried HDPE portion of water line.
The purpose of this task was understood to be that as the above ground steel sections of the water lines are being replaced by a third party, due to build-up of internal corrosion, it was necessary to confirm that there were no deposits of loose material in the buried section of the water line.
Upon receipt of drawings and photographs of the water pipeline, Heath Pipeline Services identified the buried section of pipe to be 110mm HDPE pipe including (3) x 90º degree elongated elbows and (2) x 45º degree elongated bends over a length of 109 metres.
Heath Pipeline Services were then able to scope the task including sourcing of specialist cleaning equipment to enable thorough cleaning of the internal wall of the HDPE pipeline.
All equipment, tools, specialist machinery and consumables were obtained, inspected and verified fit for purpose prior to any staff mobilisation.
Heath Pipeline Services proposed to clean the internal of the HDPE pipeline with the use of specialist equipment including a vacuum truck, volume of clean water and internally accessible, remotely operated, high pressure water hose with directional nozzles. J.J. Richards & Sons Pty Ltd were selected as the supplier for vacuum trucks and operators.
Equipment was used as outlined in the approved SOP and JSEA, (including high water volume cleaning from each end, internal cleaning with remotely operated, high pressure, hose from both ends ensuring not to get the hose obstructed in the various bends in the pipeline and completed with an additional high volume / high velocity flush of the pipeline). All fluids retrieved from the pipeline were disposed of either onsite or at an approved regulated waste disposal facility.
Heath Pipeline Services generated the appropriate standard operating procedure (SOP) and Job Safety and Environmental Analysis (JSEA) documents specifically for this task. These documents were submitted and approved for use by the client prior to mobilisation.