Heath RMLD (Remote Methane Leak Detection)
REMOTE METHANE LEAK DETECTION – HEATH RMLD-IS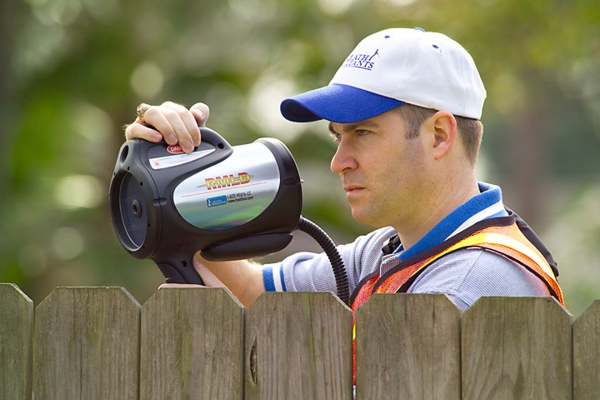 The intrinsically safe Remote Methane Leak Detector (RMLD-IS) manufactured by Heath USA, is an eye-safe laser-based natural gas detector (methane) that can quickly and efficiently detect leaks up to 30 metres away.
Our consultants use this infrared gas detector for residential surveying or to remotely detect methane emissions in areas that are difficult to access, such as; busy roadways, locked yards, underground piping, compressor stations, offshore platforms, plant/industrial inspections, gas processing plants, gas gathering, drilling sites, landfills, difficult terrains and more.
When the infrared laser beam is transmitted from the launch port, some of the laser light is reflected back and converted to an electrical signal that carries the information needed to deduce the methane concentration. The RMLD-IS has proven to be a highly effective gas leak survey instrument, compared to flame ionization and similar equipment, but with the added advantage of remote detection.  By design the RMLD-IS is capable of achieving significant productivity gains and can drastically reduce operations and maintenance costs.  Superior operator safety is achieved through the use of this gas leak instrument.
** CLICK HERE TO GET A RECOMMENDATION OR QUOTE FOR ANY HEATH OR GMI GAS DETECTOR **
This same technology has been extensively tested and further developed by Heath USA for incorporation into drones technology.
And because Heath RMLD-IS is an infrared device and does not require bump testing or calibration, hence it delivers significant time savings and capital benefits to the astute customer.
The Heath RMLD-IS is available to purchase or hire through Heath Pipeline Services.  Training services are also available.
** CLICK HERE TO GET A RECOMMENDATION OR QUOTE FOR ANY HEATH OR GMI GAS DETECTOR **