LANDFILL MONITORING – SPECIALIST TRAINING AVAILABLE
LANDFILL GAS,
FUGITIVE EMISSION MONITORING

,

USING REMOTE METHANE LEAK DETECTOR (RMLD)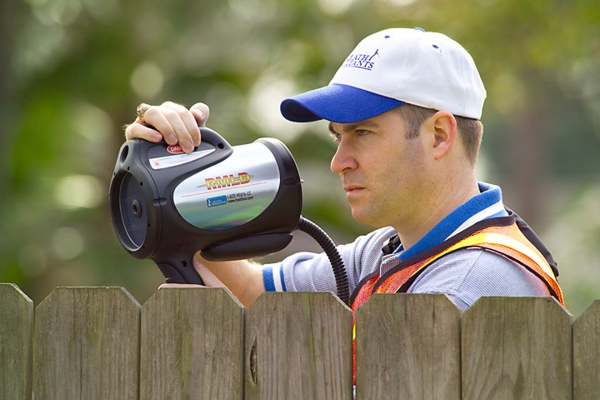 THE ISSUE WITH LANDFILL GAS …
Methane is a major constituent of landfill gas and has a global impact as a greenhouse gas. Additionally methane is an explosive gas and poses a health and safety risk in landfill areas and nearby properties. Due to its buoyancy methane can migrate vertically through the soil profile and accumulate under buildings and slabs.
LEGISLATIVE REQUIREMENTS
Regular checks are a statutory requirement necessary to demonstrate how active gas management at landfills is, minimising the release of landfill gas from the site surface (fugitive surface emissions).
HOW WE CURRENTLY MEET REQUIREMENTS
Landfill gas emission monitoring is currently achieved with regular walkover surveys. During the walkover survey, the gas concentration close to the surface of the ground is monitored using a range of portable landfill gas detectors, normally equipped with internal sensors.
THE PROBLEM WITH CURRENT METHODS
Landfill gas migration is a complex and variable process. Several factors like weather conditions (wind gust, barometric pressure) might obscure the presence of localised point-source emissions.  Additionally, technology currently used in the landfill gas equipment (with internal sensors) is not capable of resolving small changes in methane concentrations over a period of a few seconds. Therefore, the current approach based on a semi-quantitative, spot check walk-over or drive survey to detect fugitive landfill emissions is prone to failure.
PROPOSED METHOD
Surveys can be performed using a Remote Methane Leak Detector (RMLD).  The HEATH (RMLD) is a portable gas detector based on highly advanced technology known as Tunable Diode Laser Absorption Spectroscopy.
The detector is equipped with a laser light beam transmitted from the launch port. As the laser passes through a gas plume, the methane absorbs a portion of the light. Gas concentration is calculated by the amount of infrared light absorbed.
This technology allows the real-time detection of low methane concentrations (5ppm-m) and can be operated at a safe distance (30 metres).
The RMLD is the first of a new generation of leak survey instruments that improves the productivity and safety of a walking survey.
NEW TRAINING AVAILABLE
A new training event aims to provide participants with a general understanding of landfill gas migration, statutory requirements and fugitive emission landfill gas monitoring techniques. The training will encompass a practical component where the RMLD will be used in a real-field environment.
EXPRESS YOUR INTEREST
Heath Pipeline Services are currently seeking expressions of interest to attend this 1 day training session. Courses will be offered for October and November dates. On site training can be organised for small groups (max 5 participants).