Small frame manual injection pump for lubricants
SMALL FRAME, MANUAL INJECTION PUMP – THE MONGOOSE BY SEALWELD
Sealweld's new pump, the MONGOOSE, is the smallest, frame-mounted, manual injection pump in the pipeline industry today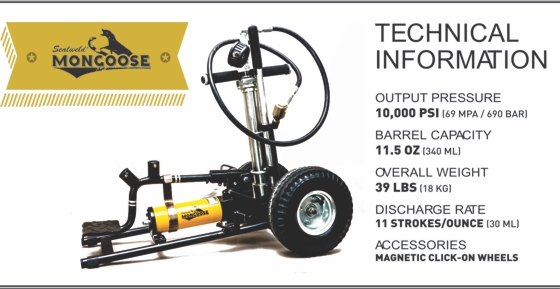 A breach loading cap makes filling the barrel extremely quick and easy with packing, sealant and lubricant sticks, liquid flushes and valve cleaners.
One ounce of product is dispensed for every 11 strokes of the foot pump which makes it extremely accurate when servicing smaller valves or energizing stem seals.
The handle is removable and adapts to the foot pump bar to allow for hand operation in two positions and also locks in the breech cap.  Transportation is simple with an optional magnetized wheel, useful when servicing multiple valves in a large yard.
The Sealweld Mongoose, manual injection pump is available to hire or purchase through Heath Pipeline Services.